Thanks to its two re-rolling plants in Crocetta del Montello (TV) and Romans D'Isonzo (GO) OCSA manufactures cold re-rolled low carbon strips in compliance with the EN 10139 and EN 10268 standard.
Our range features thicknesses from 0.18 to 4.2 mm and widths from 7 to 600 mm with dimensional tolerances in compliance with EN 10140.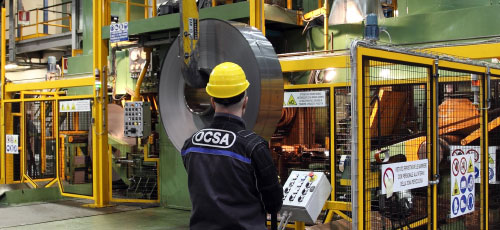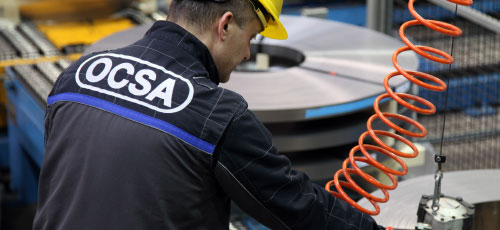 Our production range of cold re-rolled low carbon strips includes the following qualities DC01 – DC03 – DC04 – DC05 and DC06, with the state of delivery LC – C290 – C340 – C390 – C440 – C490 – C590 – C690.
In addition we supply re-rolled strips in high-resistance steel ALS ® or according to EN 10268 in the qualities HC260LA – HC300LA – HC340LA – HC380LA – HC420LA.
Our re-rolled strips can be supplied with surface aspect MA – MB – MC and with surface finish RR – RM – RL – RN.
Upon our customers' request we can arrange different and tighter delivery terms.
We continuously update our systems, install new technologies (such as Parsytech for continuous control of surfaces and electrostatic oiling on the skinpass and on the longitudinal cutting lines) and select a restricted number of qualified suppliers – all this has let us reach excellent quality which has been acknowledged by all our customers.
Surface appearance
The cold-rolled flat products may be supplied with MA, MB or MC finish. The required appearance or finish must be indicated in the designation. The specifications are applicable for the effectively controlled surface, that is, generally, the outside surface. The unchecked surface must present no less than the properties of the MA finish. The above properties are not applicable for the innermost or the outermost turn of the coils.
Surface finish
The various surface finishes are distinguished by the following reference values of average surface roughness Ra:
RR: rough: Ra ≥ 1,5 μm;
RM: matt: 0,6 μm < Ra ≤ 1,8 μm;
RL: smooth: Ra ≤ 0,6 μm;
RN: mirror finish: Ra ≤ 0,2 μm.
Nominal thickness
Tolerances on thickness for nominal widths
< 125
≥

125 and

<

600

>
≤
A
B
C
A
B
C
0,10
± 0,008
± 0,006
± 0,004
± 0,010
± 0,008
± 0,005
0,10
0,15
± 0,010
± 0,008
± 0,005
± 0,015
± 0,012
± 0,010
0,15
0,25
± 0,015
± 0,012
± 0,008
± 0,020
± 0,015
± 0,010
0,25
0,40
± 0,020
± 0,015
± 0,010
± 0,025
± 0,020
± 0,012
0,40
0,60
± 0,025
± 0,020
± 0,012
± 0,030
± 0,025
± 0,015
0,60
1,00
± 0,030
± 0,025
± 0,015
± 0,035
± 0,030
± 0,020
1,00
1,50
± 0,035
± 0,030
± 0,020
± 0,040
± 0,035
± 0,025
1,50
2,50
± 0,045
± 0,035
± 0,025
± 0,050
± 0,040
± 0,030
2,50
4,00
± 0,050
± 0,040
± 0,030
± 0,060
± 0,050
± 0,035
4,00
6,00
± 0,060
± 0,050
± 0,035
± 0,070
± 0,055
± 0,040
6,00
8,00
± 0,075
± 0,060
± 0,040
± 0,085
± 0,065
± 0,045
8,00
10,00
± 0,090
± 0,070
± 0,045
± 0,100
± 0,075
± 0,050
A: Normal
B: Fine
C: Precision
All the values are given in millimetres